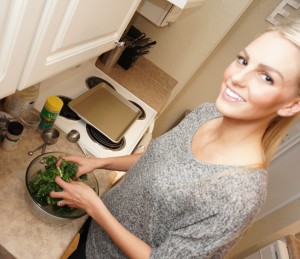 I L-O-V-E kale, like big time! It is such an easy way to add an 'ish' ton of nutrients to any recipe with little to no effort- What. So. Ever. I add it to my smoothies, soups, salads, quinoa dishes, you name it, I add it.
 But, what better to eat anything then in the form of a chip, right? I mean, come on, too easy! I started making these yummy little chips a couple of years ago and am still obsessed. Even better, the hubby loves them too! After I make them, we go to town and they are basically gone seconds late. Hello "Wifey" award?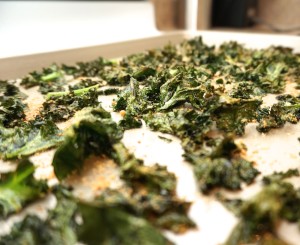 So, I decided to share my wealth of kale knowledge with you all in hopes that you will be just as obsessed as I am. I am the worst when it comes to measuring ingredients out for a recipe. I usually just dump and hope for the best, and MOST of the time, it works out. But, for all of you, I took the extra time to do some measuring and have compiled the steps and ingredients for making the ultimate snack!
Ingredients:
Kale (6cups) (I like organic prechopped in a bag, but leafy is good because you can slide it right off the stem- no stem=less bitter taste)
Coconut oil (1/4 cup) (this makes them crispy, olive oil=fail)
Seasoning of your choice (I use garlic salt)
Parmesan cheese (this is just a bonus- I like Go Veggie Parm Cheese because it's dairy free and I am lactose intolerant)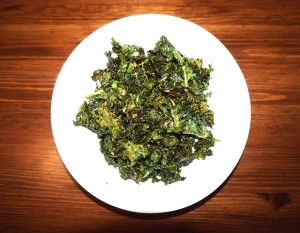 Steps:
Toss the kale in coconut oil (heat coconut oil in micro for 30 sec. first)
Sprinkle garlic salt
Bake at 350° for 15 minutes
Sprinkle cheese of choice
Cook for another 5 minutes
Wah-Lah! You got yourself some kale chips!