Aria is almost two months old which is so crazy to write, time is flying! So, I thought it was more than overdue to write her birth story. I feel so blessed to be able to write this story and have my baby girl in my arms as I do it.
I'll give some back story before I hop in to bring you all up to speed. At 18 weeks pregnant, I received a Down syndrome and congenital heart defect diagnosis for Aria. This changed a few things medically for the remainder of my pregnancy so they could monitor her more and make sure she was as healthy as possible. I still have to share my journey emotionally through that process but for now I'm just going to stick with her birth story.
At 28 weeks, I started to go weekly to my OB to get NSTs done, this is where they monitor her movement and make sure it is enough. Something that can happen with babies with Down syndrome is the placenta will stop working because it has Down syndrome as well (this is so weird/funny to me lol) so more monitoring needs to be done to make sure that doesn't happen and that she is getting all the nutrients she needs. For many years there were a significant amount of babies with Down syndrome born stillborn because of the placenta not functioning so once they figured this out, they started monitoring the mothers and babies a lot more especially towards the end of pregnancy. I also went to a Maternal Fetal Medicine doctor weekly and they would do ultrasounds of her and the placenta to monitor all of these things. They would also measure her every few weeks to see where she was at growth wise.
Aria was small my whole pregnancy but dropped down to the 3rd percentile when I was about 30 weeks pregnant. This was a little scary for sure but I just kept believing she would chunk up!
The plan and goal for delivery all along was vaginal. I was surprised they didn't want to do a scheduled C- section but they said vaginal would be best for her. They also told me I could labor the whole time and when it got to pushing if it was too much for her heart and they would have to do an emergency C-section but it was worth trying if I was up for it. This became my sole motivation for working out my whole pregnancy. I wanted to be as strong as possible so that I could push and get her out fast. The more pushing, the more stress on her heart, and the higher the likelihood of the emergency C-section.
I was 37 weeks and it was the Monday before she was born. I had an NST at the OB and she ended up failing it due to lack of movement, so they did an ultrasound and she ended up passing. I paid high attention to movement the rest of the week and it felt less but she also had less room. That Friday we were getting ready to go to the Zoo but I had a quick appointment at the MFM. So, Tomas stayed with the kids and got them ready so we could leave the second I got home.
When I got there, the nurse started to performed the ultrasound and I could tell that this one was going a little differently. She kept trying to move Aria but she really wouldn't budge. She told me she needed to talk with the doctor and I was going to need to switch rooms so they could use a different machine to monitor her. Aria's heart was beating and strong but when she moved it was sluggish and something seemed off. I called Tomas and he started driving over.
The doctor came in a few minutes later just as Tomas got there. He told us that we needed to go to the hospital and deliver her because it would be safer for her to be on the outside than the inside and that I was far enough along that it shouldn't affect anything too much. The only factor was she was so small, measuring right under 4 lbs but that it was just mean a longer NICU stay.
I was a little overwhelmed but was so focused on making sure Aria was healthy and strong I was going to do whatever we needed to and make sure that happened. When the doctor left, I started to cry. I felt so bad that we couldn't take the kids to the Zoo after we told them we were going. Call it pregnancy hormones or whatever but I was wrecked over it. I just felt so guilty and thought that maybe this was just the start to their life being so different and sacrifices being made by them and I couldn't get past it, I was so upset.
The Doctor told us to go home and get our stuff and that the staff would be waiting for us once we got there. I went to St. Josephs about 45 minutes away because they had teams that specialized in cardiac issues and had more experience with babies with Down syndrome. Also, their NICU had individual rooms and a place for us to sleep in the same room with her. They told us she would have to go to the NICU once she was born for monitoring and depending on how she did would determine her length of stay.
I cried the whole way home about the Zoo lol but I walked in the door and went right over to Mia and told her I had a surprise for her. I told her that I was having baby Aria and that she would get to meet her in the next couple of days. She looked at me with the biggest smile on her face and started jumping around and screaming. She ran and got a pillow and squeezed it so tight because she was so overcome with emotion lol. She didn't care about the Zoo and wanted to help me pack so the baby could come out faster. Seriously you guys, she is this sweet.
We drove to Tampa and got checked into the hospital. My sister and mom arrived a few hours later.  They started me on cervidil at 4pm and it was Friday. My contractions started about 30 minutes later. They really kicked into gear about 11pm that night, things became way more intense. I was 0 cm dilated but she was super low. I labored all night which was hard because I was really tired but she was doing great and her heart was handling it all well so I kept focusing on that. I was also completely open to however things turned out delivery wise as long as she was healthy. I was pretty sure I was going to have that emergency C-section but just kept the focus on her and honestly it made me not care very much.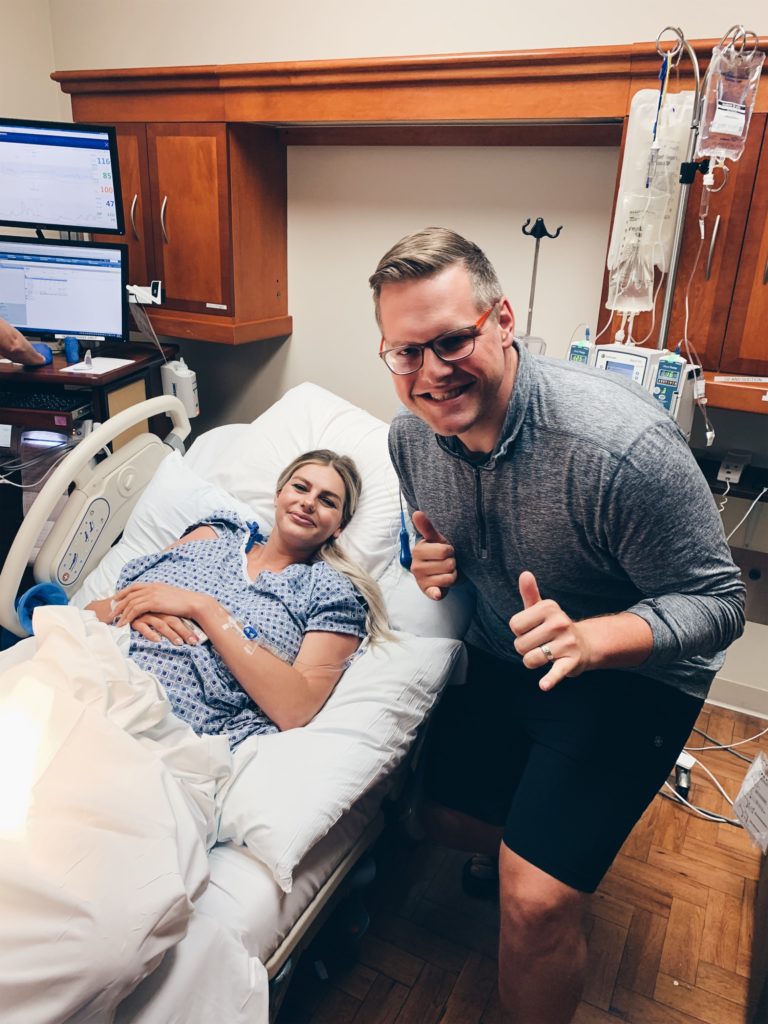 Around 4 am they took the cervidil out and checked me. I was only 2 freaking centimeters. I couldn't believe it, but she had dropped even lower. They were getting ready to start Pitocin but I had them do the epidural first. I had decided a few months prior that I was going to do the epidural because I knew they were inducing me and I wanted to be in the best mental state possible once she was born. I needed my energy and a clear mind to make some possible hard decisions fast, so getting the epidural so I could sleep became a non-negotiable for me and I didn't feel bad about it. But shout out to all you mamas out there who have done it without it, seriously so strong and amazing!!
I got that heavenly unicorn magical serum the epidural and went to sleep! They started the Pitocin and my contractions really started to pick up. They checked me and at 3pm I had only gotten to 5 cm. The nurse told me more than likely she would be here by 10pm.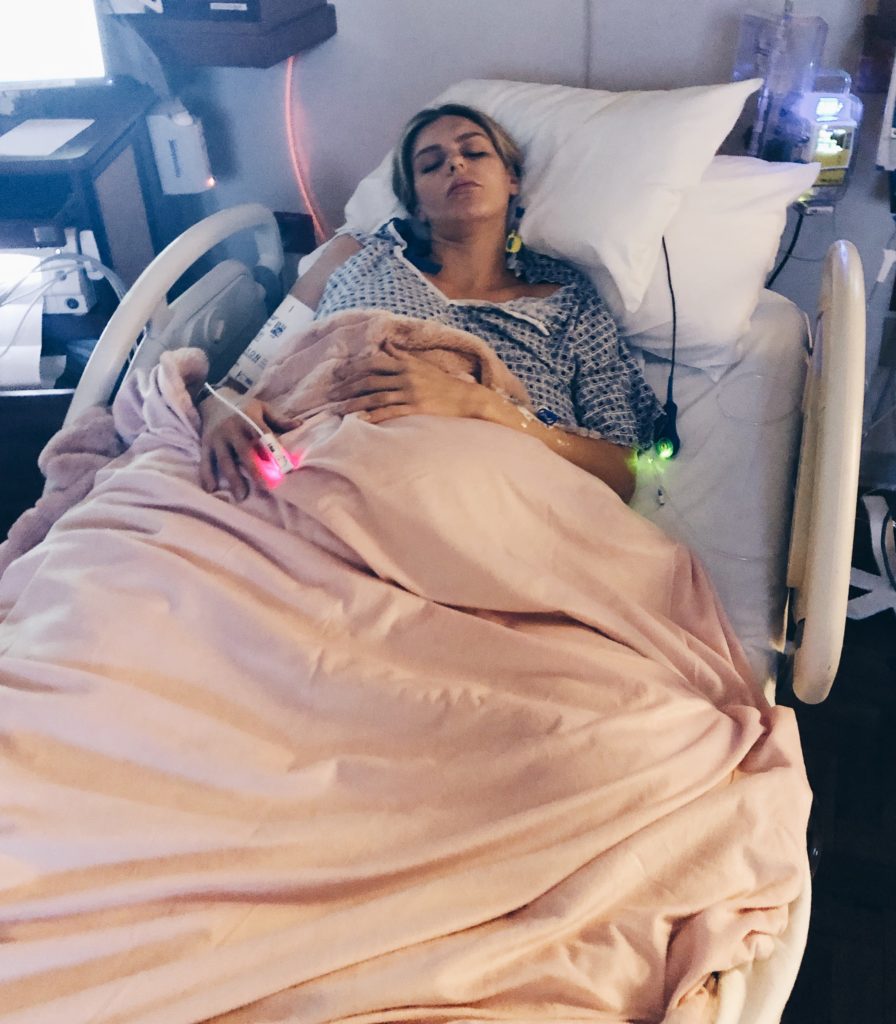 I was laying there and could feel how low aria was literally like her head was falling out during every contraction. I feel like everyone says that so I made a comment to the nurse but assumed that wasn't the case since she had just checked me 15 minutes before and I was only 5 cm. Moments later Arias heart rate started to drop so the nurse immediately checked me and I was at 10 cm! I couldn't believe it! She started to get me ready to push and told me I was going to do a practice push while we waited for the doctor. Someone said something and made me laugh and the nurse said "wow don't make her laugh, she's coming out, lets skip the practice push, don't move until the doctor gets here!"
The doctor ran in (literally like the movies) and now was my time to put all those past workouts to work and get her out fast. He told me to push once and her head was out, he then told me to grunt and she was out! I can't make this stuff up you guys it was insane and I was so thankful!
I looked down and saw how big she was and I was in shock. I asked the doctor how much he thought she weighed and he said probably 5 ½- 6 lbs and I was so relieved. They took her to the side to do some immediate evaluations on her. Tomas went over with her and I looked at him asking with my eyes is everything ok. He looked back with the biggest smile and gave me a big thumbs up. She came out screaming (again so thankful) and after those initial checks they brought her right over to me.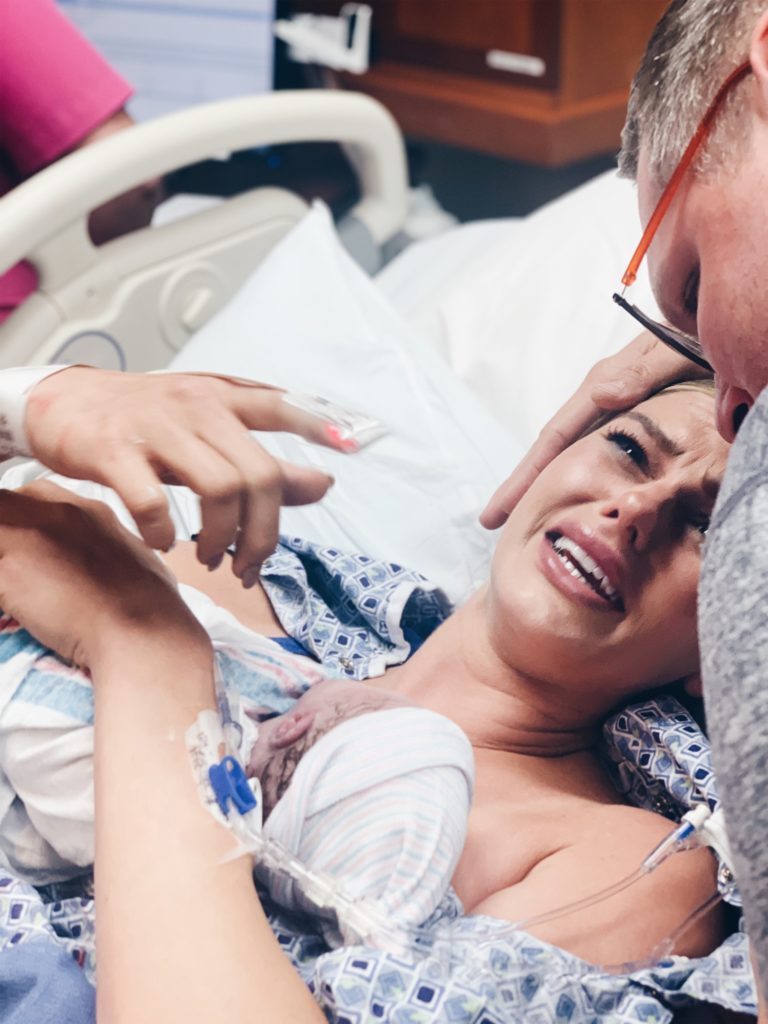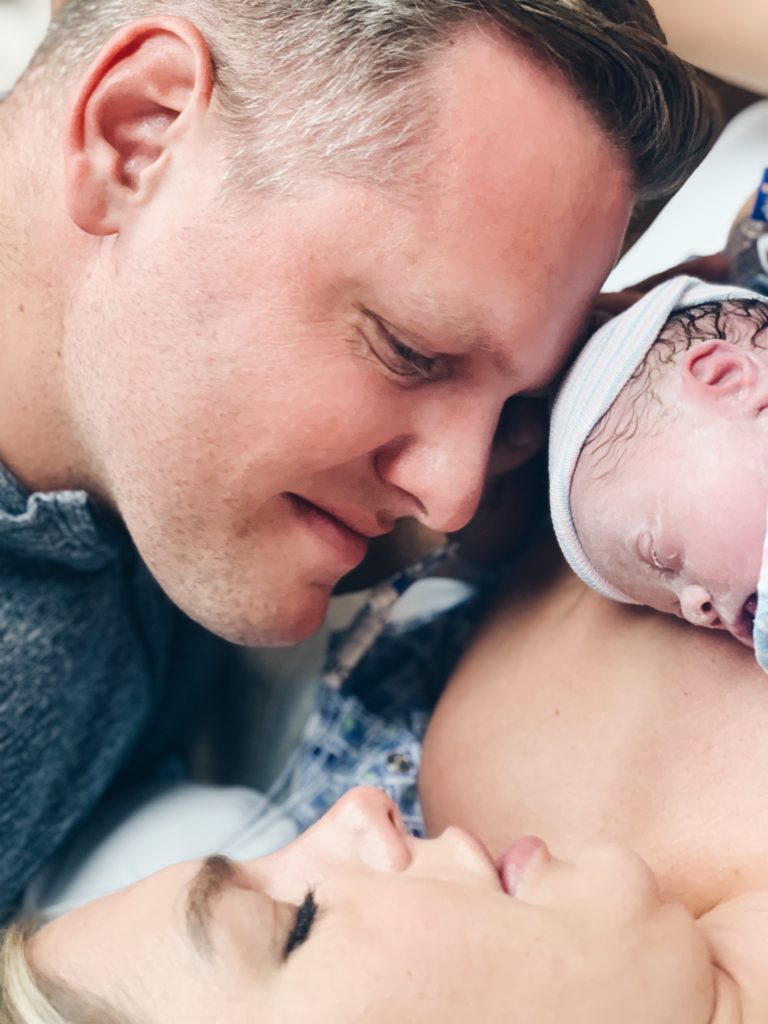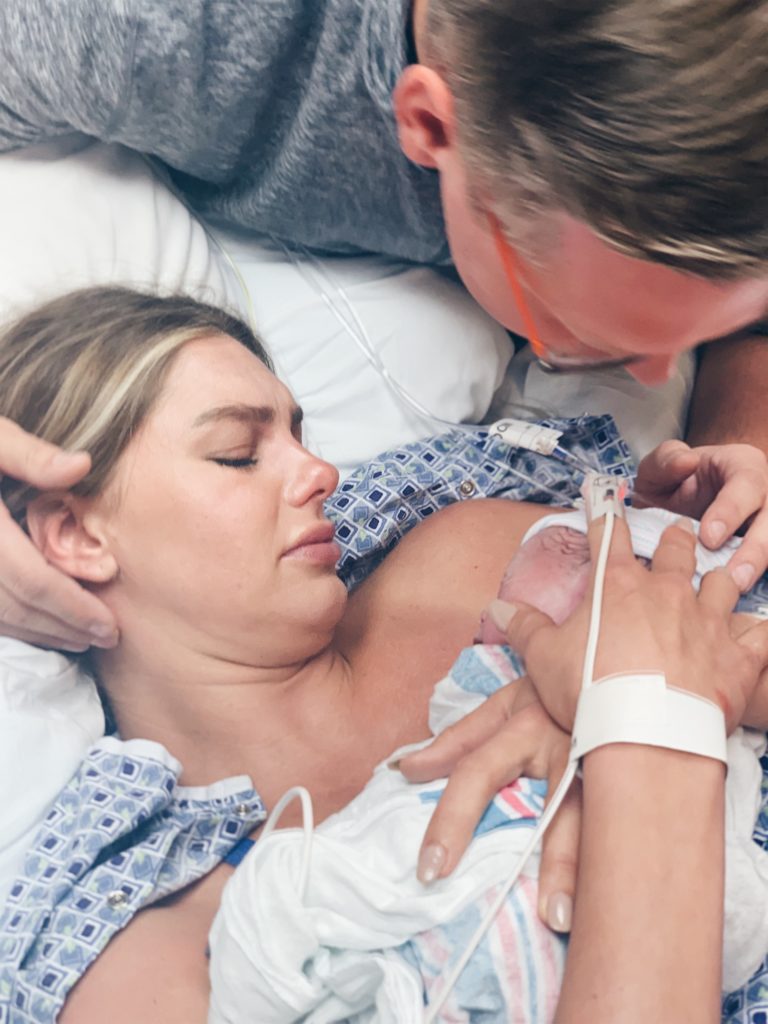 They laid her on my chest and she looked up at me with her big almond shaped eyes (a common characteristic of Ds). She was so beautiful and I was already so in love. A couple minutes later they needed to take her to the NICU so they could continue their evaluations and perform some tests. Tomas went with her and I had to stay behind.
Tomas sent me tons of pictures and texted me constantly giving me updates of what they were saying. She had the heart condition but everything else she was so healthy and strong. No other issues! They let Tomas do skin to skin with her and they did this for a couple hours before I was able to make it there. As hard as it was not being with her, it was so sweet for Tomas to have that time and I could tell instantly she was going to be a Daddy's girl just like Mia.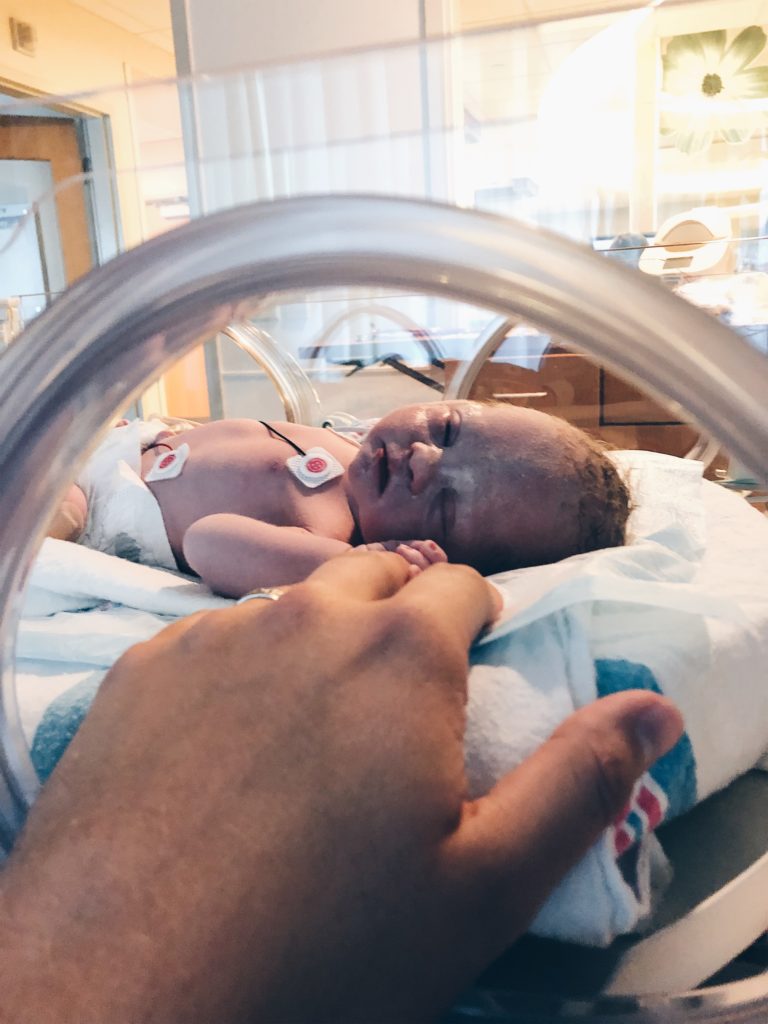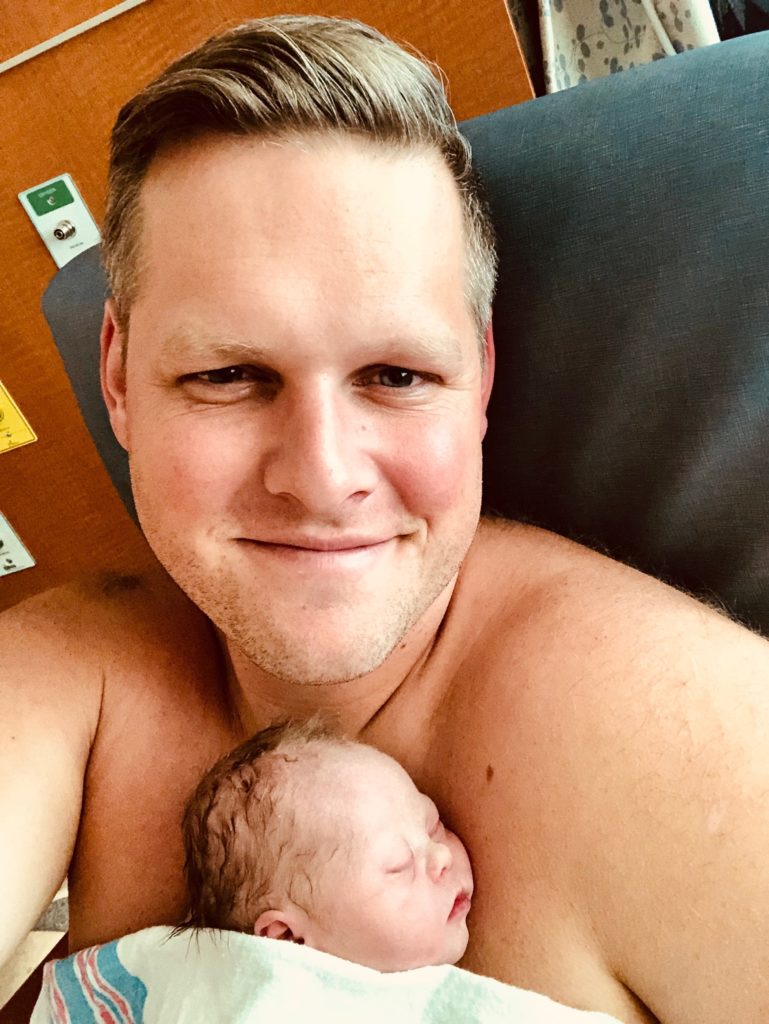 I met them up in the NICU and got to hold my sweet baby again. I didn't struggle at all with the fact that she had Down syndrome, I had grieved and processed that throughout my pregnancy so by time she was here I was so ready to meet her and in love with every part of her. I kept getting emotional about how strong and healthy she was and over and over again I was thanking God for His goodness and protection over her life.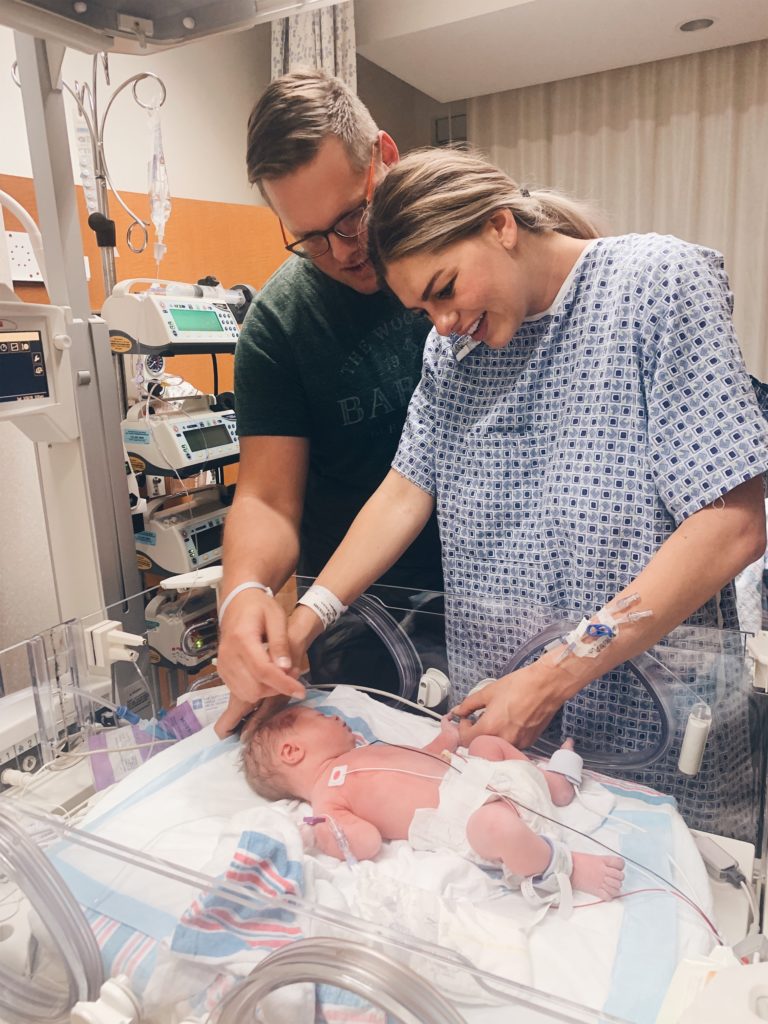 I had to sleep in the Mother's wing but didn't leave the NICU until around midnight. The next morning, I woke up around 5:30am and I needed to see her. I waddled down to the NICU and grabbed Aria out of her incubator. I turned on "New Wine" by Hillsong which I had listened to on repeat since finding out her diagnosis's the rest of my pregnancy. I sat there and stared at her, and in that moment, everything began to make sense. Her having Down syndrome and the call on her life was undeniable. I felt so proud to be her mom and so excited to see how God was going to use us to impact the world. I felt so proud of her and her strength and knew she was going to spend her whole life defying odds and opening people's minds and hearts to the beauty and worthiness of people with Down syndrome. She is different and is special needs and I have a responsibility to give her every opportunity and I am so excited about that. I feel so honored to be her mom. This moment took my breath away as I sat there with tears streaming down my face thanking God over and over and listening to our song. That moment is burned in my heart and with forever be used as a reminder of Gods faithfulness in my life.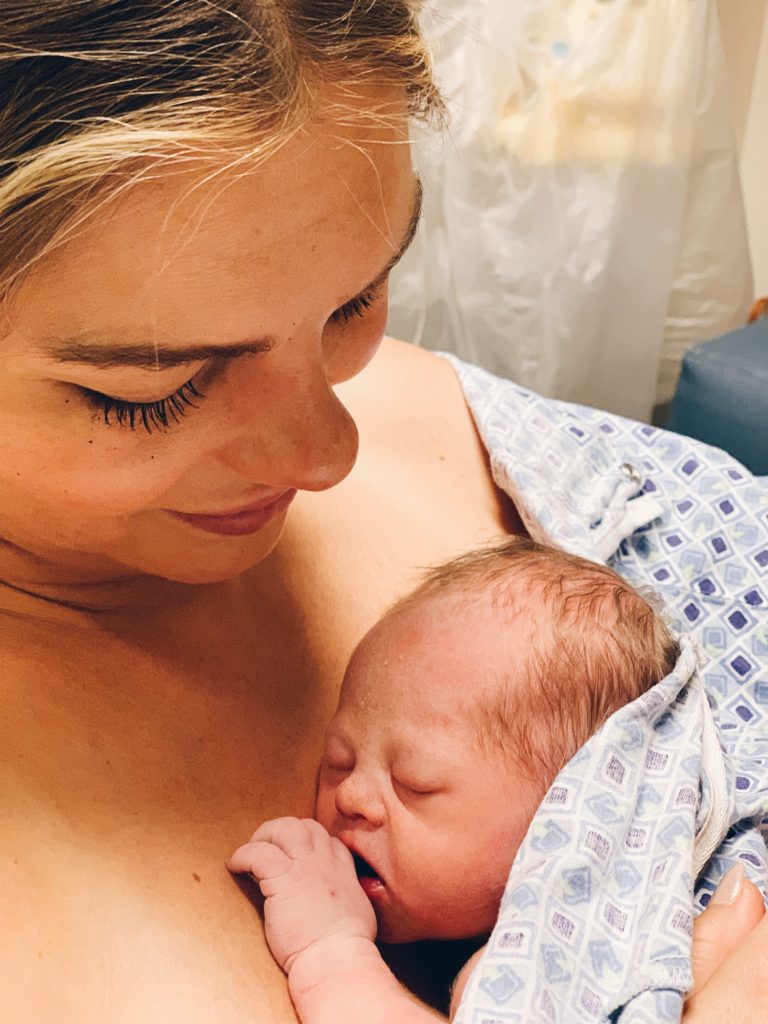 We stayed in the NICU for a week so she could work on feedings and get stronger but she was a total champ. Honestly every day felt like Christmas morning and still does. The fact that she is here and is doing so well is an absolute miracle. I'll never stop being amazed by her!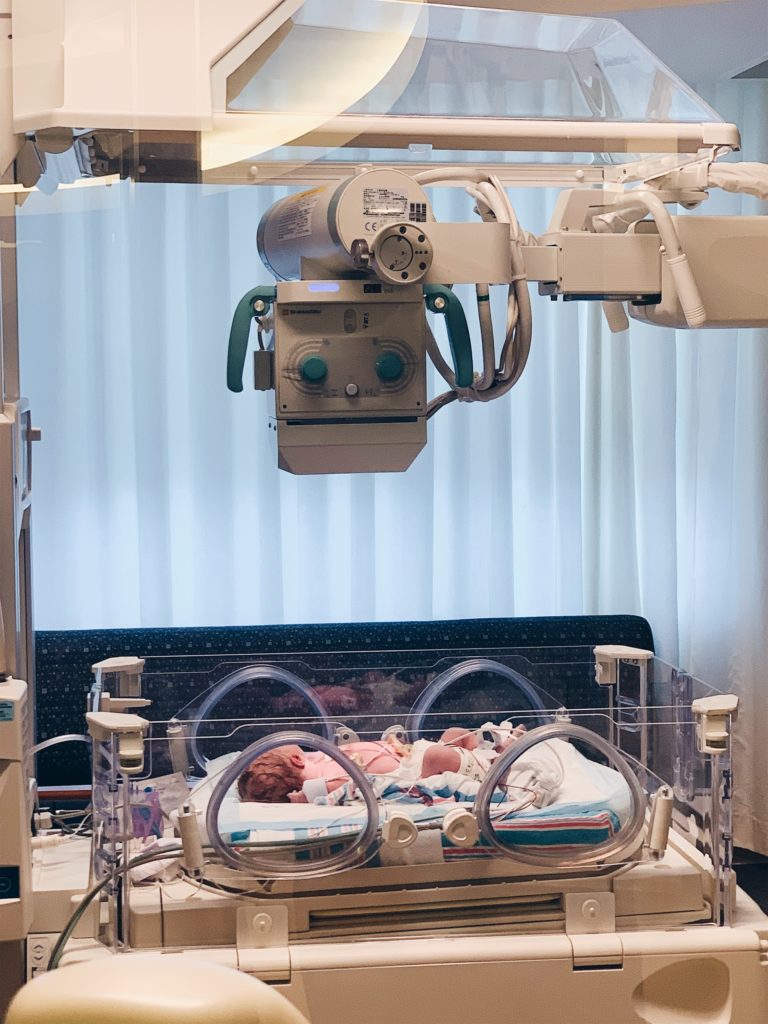 Thank you all for your support and prayers. It has meant so much to us throughout this journey. I have heard some pretty difficult stories of how people are treating with a child with Down syndrome and we have experienced the exact opposite. A community rallying behind her and us, supporting us every step of the way, and cheering her on! I couldn't ask for more and I get so emotional every time I think about it, so thank you from the bottom of my heart.