Have you guys heard of a dehydrator!?!? It's all the craze right now in the health community so I had to get me one! I got one for Christmas (thanks Mama and Papa!) and haven't stopped using it since! I have been dehydrating the 'ish' out of stuff and loving every second!
Basically a dehydrator "bakes" foods at a super low heat (like lower then your oven can go, 115°ish ) for a long period of time and dries it out by taking all the moisture out. Think dried fruit. Don't think nasty a$$ dried fruit from the grocery store loaded with sugar, that 'ish' is so disgusting and filled with so much sugar you might as well eat a bowl or two of icecream. This is dried fruit that just has the sugar from the fruit and it SOO yummy I could die! It's such a great snack and so fun to eat!
Tomas and I have jumped on this train big time and are loving every second! We make a whole date/thing out of it! First of all, he knows the way to my heart is in the kitchen together listening to music, cutting fruits and veggie, and goofing around while making yummy healthy foods! If that was a love language that would be mine! 😉
During our normal grocery shopping we walk around the produce section and pick out the staples of our dehydrating like bananas, apples, pineapple, strawberries and berries, also we get random things to try just for something new and to see how it will do. This time we did mango, pear, and an Asian pear. Tomas added half an avocado and I think that has serious potential to be disgusting (side note it did not work)! I guess you could call it a dehydrating adventure!
When we get home we get chopping! Que Tomas and his mad skills! Tomas was an artist in high school like legit legit, AP Art and everything and he is super creative! He is so good with that kinda stuff and really enjoys it so I let him go to town and I am in charge of clean up! I got some mad cleaning skillz, don't be fooled!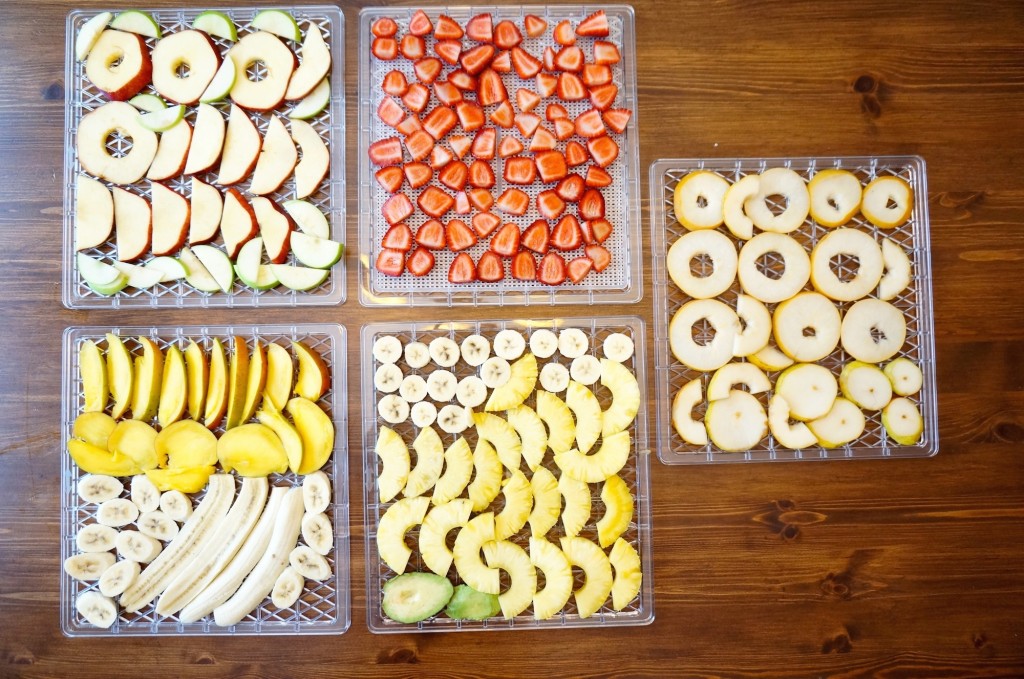 It's super easy- you just slice everything (berries you can just throw on the trays), place them on the trays, and then stick them in the dehydrator! Easy peasy! The most time consuming part is the chopping and the waiting for it to be done. Once in the dehydrator, its takes like 7-8 hours to cook depending on what it is. We usually do all this at night and that way when we wake up it is ready to go!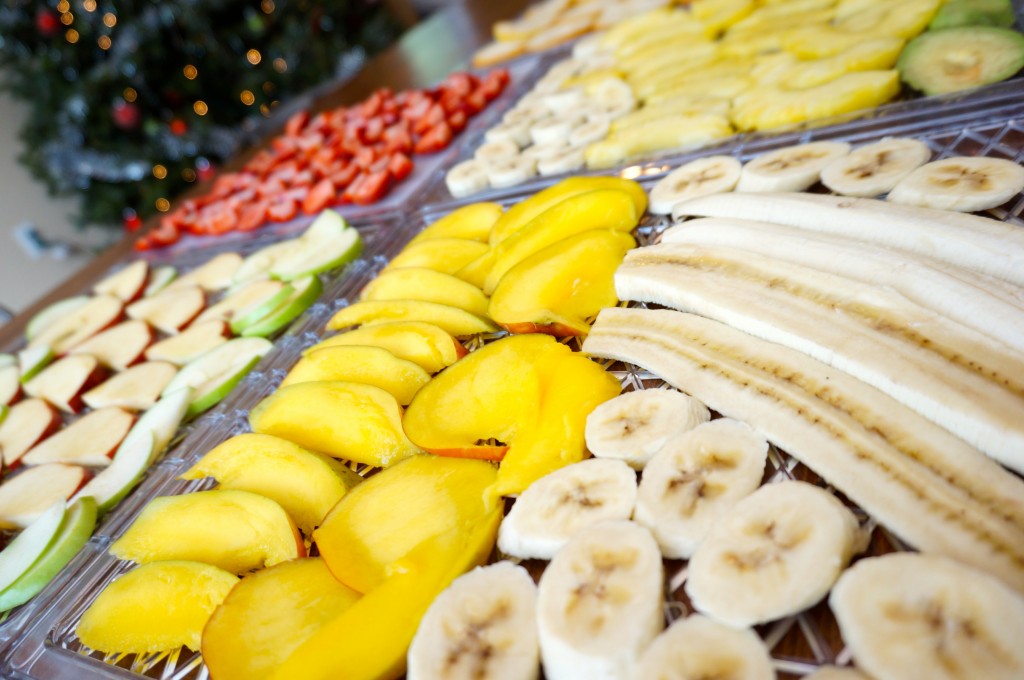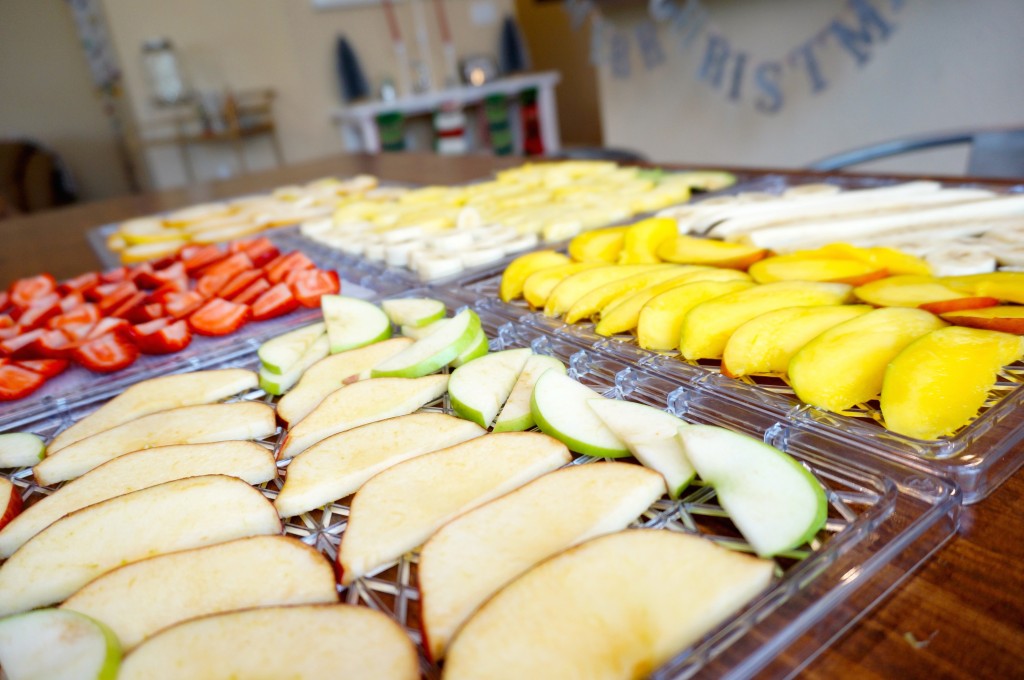 There are so many different kinds of dehydrators out there, I love the one we have (you can purchase it here) but essentially they all do the same thing!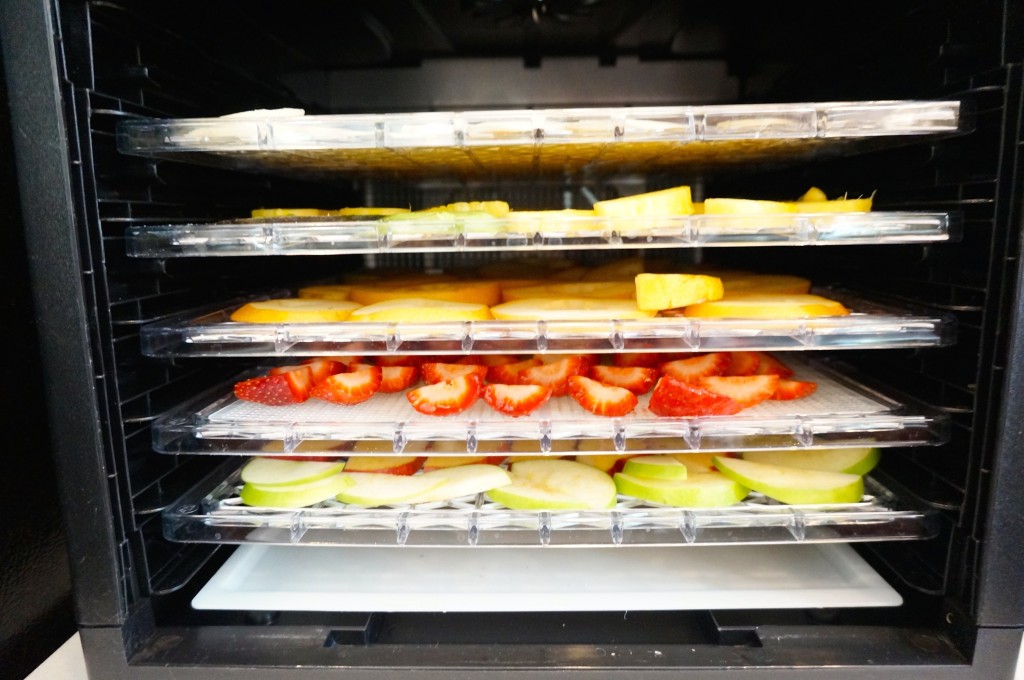 Dehydrating is great for a snack on-the-go as well as if you have fruit going bad, just throw it in and you'll be good to go! It will last a lot longer! You can make granola and add the dried fruit to it and the list can go on! 
A dehydrator was originally intended for meats like beef jerky and stuff like that, so if you are into that kinda thing go to town! 
You can also make fruit leather, think healthy fruit roll up! You blend the fruits first and then stick them on special tray for the dehydrator and again wait a few hours and then just cut it how you want it!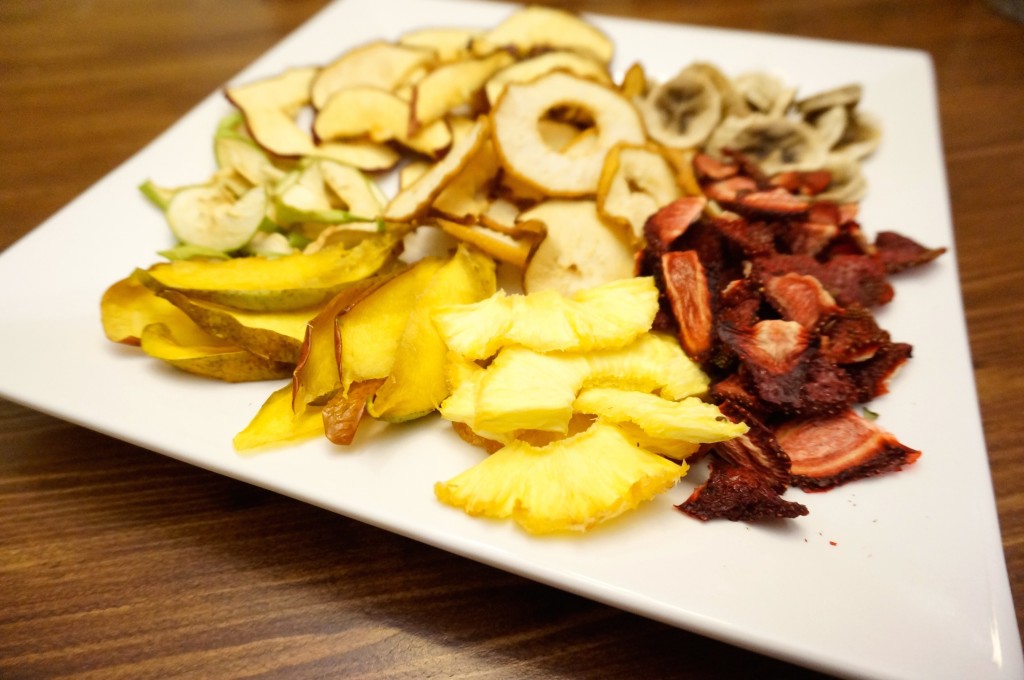 *P.S. This photo was taken after someone (not mentioning names, Tomas) ate a bunch! He couldn't wait LOL!
The options are endless and I feel like I am just getting started with mine! If you have recipes or different ideas throw them my way!