Let's talk LASHESSSSS!!! I thought I would start off by giving you guys some lash history here. I would say I have pretty normal lashes. Normal length, curl and thickness and never thought much about them. The summer before I went to college I switched my mascara after a friend raved about a certain one. I made the switch and loved the mascara. After a couple of weeks I noticed my lashes looked a little on the lighter side, I couldn't tell if some had fallen out but they definitely looked more sparse. I kept putting on the mascara and even more now because I wanted them to look fuller. 
Flash forward a couple of months and I was literally down to four lashes on each eye (OMG!). It didn't really dawn on me that it was the mascara; I kinda figured it was stress or maybe I was developing some rare disease on my eyelid (would not have surprised me). This is the exact moment I met Tomas. I strolled up and met him with all eight of my eyelashes and he fell in love with me despite (brownie points for Tomas). He refers to this time period as my Minnie Mouse lash days (cool.). I switched mascaras and the problem went away, turns out I was allergic to that mascara, that was fun.
I tell you all this to say I have been at both ends of the spectrum, having a total of 8 lashes all the way to have a full, beautiful set with my eyelash extensions! 
So like I said, since then I have pretty normal lashes, but I started hearing about eyelash extensions and was super curious because who doesn't want amazing lashes, am I right!?!?! From what I had read about them they made your life a lot easier not having to worry about mascara and they were pretty low maintenance. I was ultra intrigued because with teaching fitness classes all the time I am constantly having mascara smeared all over my face from sweating (sexy I know) but I didn't want to go without because then I look like my freshman-year-self and really tired. 
When my friend Haylee Coleman (seriously guys she is so cute!) opened up her eyelash extension studio, The Lashery, I was all over that! I made an appointment with her and really had no idea what I was getting myself into, but showed up without any makeup and ready to go! 
First off, her place is SOOO cute! Aesthetics are super important to me and so is cleanliness and her place was so cute and super clean! I layed down on a comfortable bed and closed my eyes the whole time. She taped under my eyes (this protects the bottom lashes from getting adhesive on them and also protects the skin and eye from the primer touching the skin or the eye) and started doing her thing.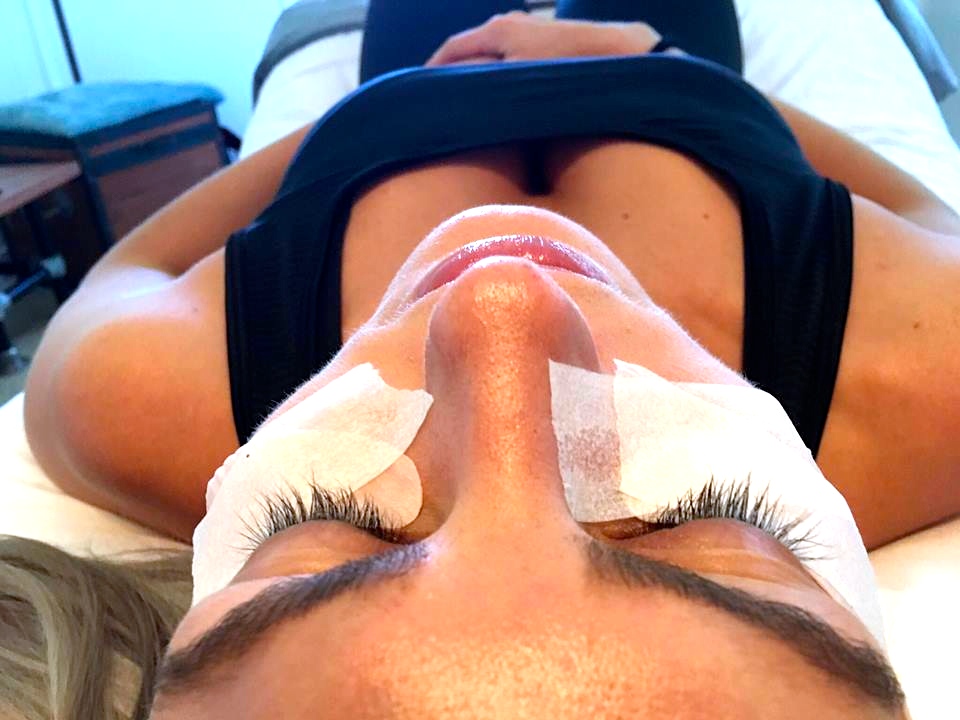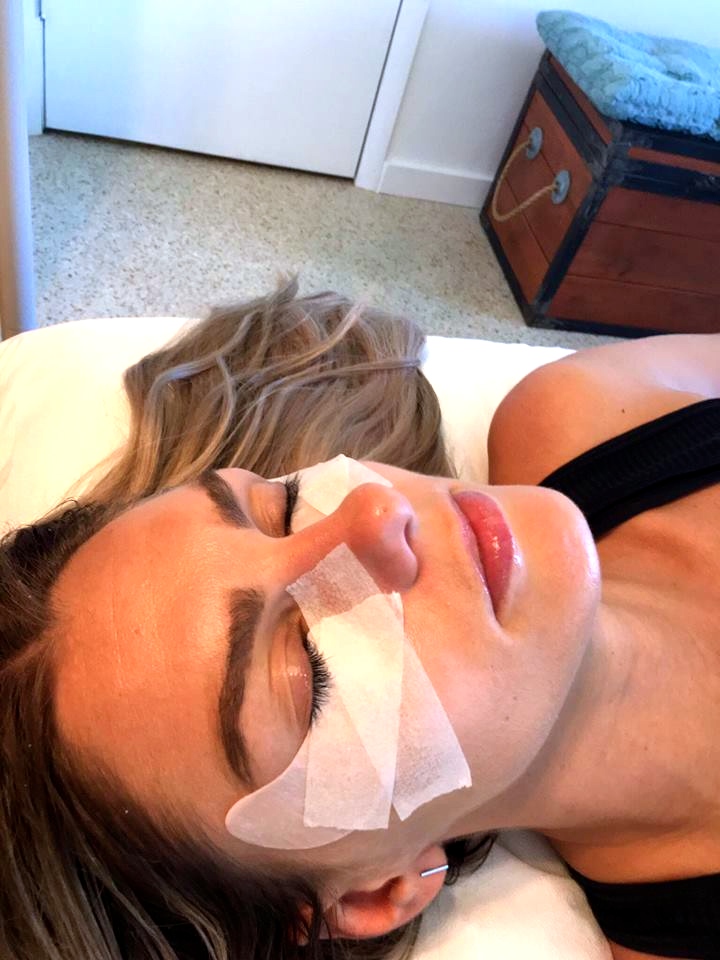 Basically, the eyelash extensions are applied one lash at a time, one synthetic lash to one natural lash approximately 1-2mm from the lash line. She uses a brand called BlushRock made of synthetic polyester that looks super real. The first set takes about 2 hours and then about an hour for refills that you should get 3-4 weeks later. 
It was SOOO relaxing and I kinda dosed off a couple of times. It was really nice just to chill, not have my phone on me, and relax for a couple of hours, so that in and of itself was worth it! 😉 
When she was done I was super surprised by how much I loved them. I got the longer lash and I thought it was perfect. They do not look fake at all and now its honestly hard to imagine eyelash life without them ;) . It has been so much easier not having to worry about mascara and it's silly but life does feel a little simpler. 
I have gotten so many compliments about them but mostly from people that knew I was getting them. The question I have received a lot is if they will ruin my lashes and the answer is NO, which is crazy! They don't ruin your original lashes at all! 
Here is all of the FAQs she has on her website if you want more information and you are always welcome to ask me! 
Haylee is so awesome and is running a deal for you guys! Normally it is $180 for a full set and $60 for a fill but if you mention this post you will get $30 off both, SOOO $150 for a full set and $30 for a fill! Trust me guys it is SOOO worth it! This deal is for the month of August and she gets booked fast so make your appointments soon!
The best way to contact her is either to text her or Facebook message her. Her number is 813-240-2829.
Seriously let me know if you have any questions!
Again, I am obsessed!!