I feel like I am always in situations and conversations where time management comes up. This might sound so nerdy and weird but I am actually OBSESSED with time management. It does come super easy to me and I almost see life as a puzzle and I am filling in that puzzle with pieces and organizing it to make my schedule work best. Tomas makes fun of me because he does not understand this at all but I kinda get a high off it and love doing it for myself and helping other people with it.
Soooo many people when they are wanting to start something new or add a good habit into their life immediately tell themselves "well, I don't have time". This is honestly the worst excuse because it's BS. We all know we make time for things that are important to us and if they aren't then they don't make it on to the list and don't happen. We have the same amount of hours in a day as Beyonce 😉 .
When I was launching the studio I could have looked at my life as said "I have no time". I was nannying 40 hours a week, helping Tomas with his business, seeing nutrition clients and private Pilates clients. It didn't seem like there were enough hours in the day but I started time blocking and made it happen.
What is time blocking you ask? Well, I would have a pretty set schedule and block out times for certain things to make it all fit in a day. For instance, every morning I would time block from 9am- noon to see clients. Then I would nanny from 1-9pm (an hour commute each way, where I would listen to podcasts on personal growth and make business calls), get home and work on my business from 10pm-1am (sometimes 2am :/ ) and wake up and do it over and over again for about nine months. I'm not saying it was healthy or sustainable but it had to happen for me to get my dreams off the ground. On Saturday's and Sunday's, I would put about five hours each day into the biz so by the end of the week I had given my business 25 hours a week and got an ish ton done. I did this for nine months and had a fully running business and a team of twenty by the end of it.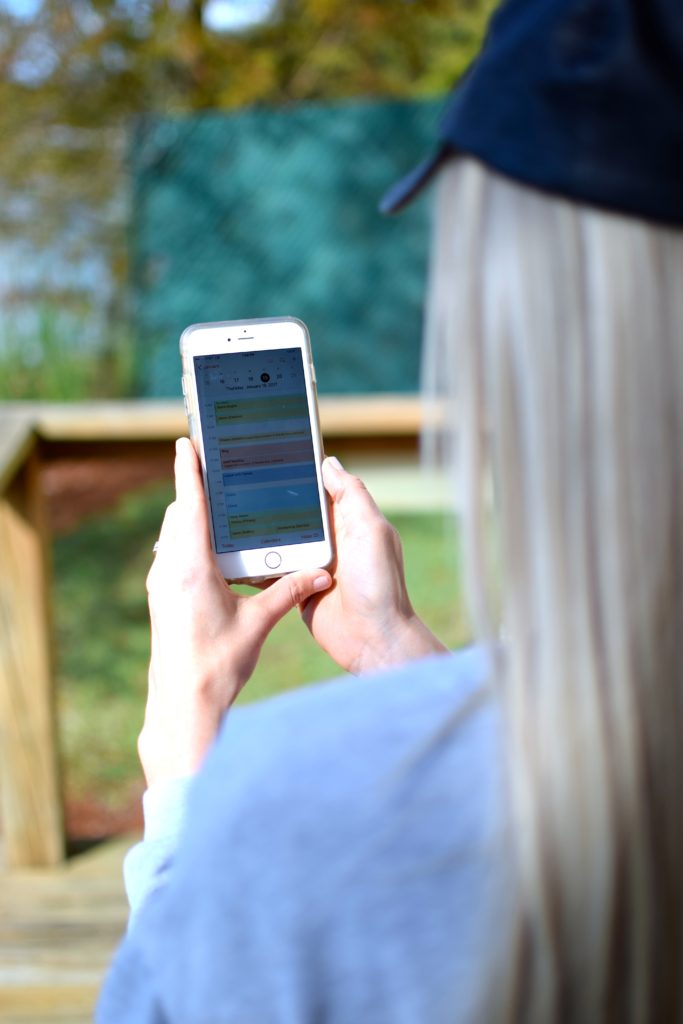 Once The Balance Culture studio was open my schedule got only crazier with meetings, classes, and just figuring things out in general. I no longer had the nannying job but I had to become a pro at mastering my time or else nothing would get done.
I now was doing a lot of different things so I took it a step further and categorized everything by color. I did this in the calendar settings under my iPhone. So as an example "nutrition clients" is dark blue, "meetings with my team" is red, and "classes" are orange. It's so easy to do and it makes it so much easier to organize when I look at it.
If you look at the calendar in my phone now almost every hour in the day is blocked off for something. I then have my "lists" in my phone where I go into more details. I have it broken down into what I need to get done that week and future things I need to be thinking about so it literally says "Now:" and "Future:" with the lists that follow. I also have a "Shopping:" one at the bottom, to keep track of what I need to get at the store. I live between my calendar and lists all the time.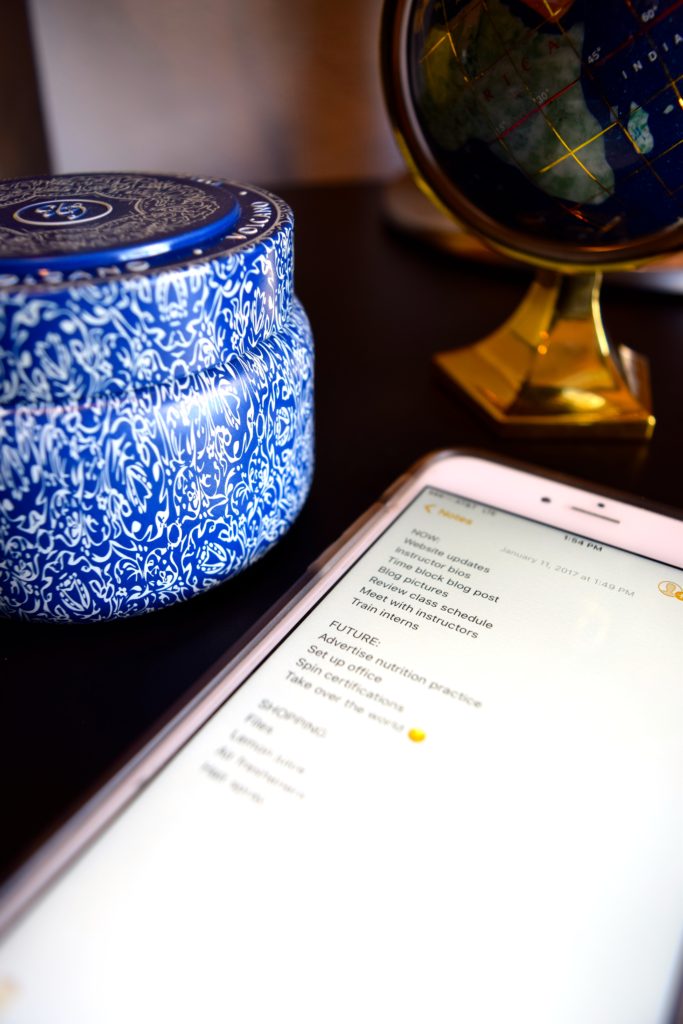 *The pictures don't show this because I actually made a calendar and list specifically for the post as a example (I have a lot of people's personal info, clients and such, but I wanted you to get the idea 😉 ) but i actually am really detailed in my calendar events and lists. There's a million things going on in my mind at any given moment, so the less I have to figure out by what I meant the better!
At night around 9pm, I look at my calendar for the next day and confirm all meetings and make myself familiar with the day so I can plan to bring a lunch, or what clothes I need to walk out the door with (sometimes needing to change for fitness classes or a meeting), and make myself really familiar with my schedule for the following day and I feel so much less overwhelmed. I then look at my lists "now" and "future" and pick about 3 or 4 things that I am going to focus on tomorrow and move those to the top.
I am SOOOOO much more productive when I am organized and it helps my brain stay calm, that's weird but its just what works for me.
We set ourselves up to fail sometimes when we want to add a great habit into our lives or start something new but don't make space for it. Carving out time sets you up for success! Time blocking is not sexy I get it, but it might be a silly little thing that is keeping you from your dreams!
Much love to my Type-A psychos who get all this *kissy face*