SOOOO many questions about this, all day, evr'y day! I love it, it doesn't bother me for a second but I do want to answer them all so I might have to update these posts a little more frequently! Some things have changed since my last post >>>>> here (most products I use are listed there too)! So I wanna update you guys!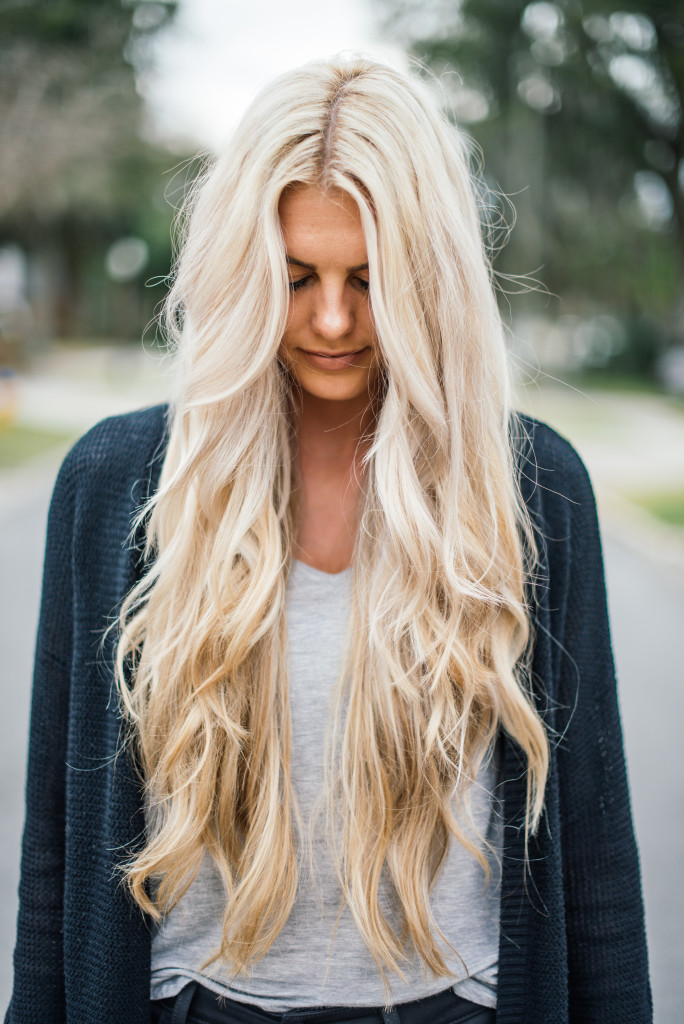 First things first, my hair color! I have been "going blonde" for about two years now. It has been a long, slow process because I did not want to risk frying my hair and having to cut it all off. Long, blonde hair is not pretty when it's fried, stringy, and dead, so it just wasn't ever worth it to me. I shared before that Lindsay Lane from Esquire does my hair and I know a lot of you go to her wanting my hair color so I did want to share some details. When I sit in her chair the first thing I always say is "take me as white bright blonde as you can without frying my hair" and she does. It has progressively gotten blonder each time; see my Instagram or Facebook for examples.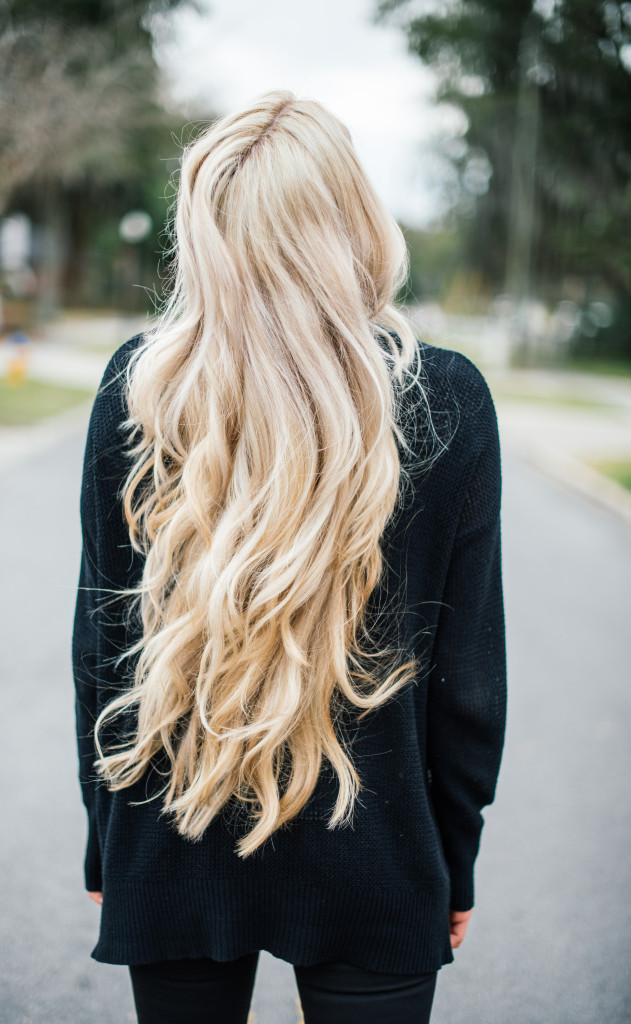 It is also a pretty expensive process. I have been going to Lindsay for a couple of years now every 6-8 weeks and it is almost $200 a time. I do have a lot of hair but to get what I want with so many foils it is pricey!
The type of foiling she does is baby lights. It is super tiny weaved back to back foils. It's not worth mentioning the formula she uses because every ones "starting" hair is different, so if you are wanting my color chances are she would have to do something different to your hair color to start the process of achieving it. I do know the toner she used last time was called White Minx.
I also work really hard to keep my hair as healthy as possible. This is SUPER important to me. So I am very careful with doing the things that would damage it. I only wash my hair about every five days and dry shampoo is a huge help with this! I am also really careful about heat too. I don't blow dry my hair, I let it air dry and do wear it natural a lot. I don't brush it except for when it's wet after I wash it.
A month ago I bought a wand (32mm) because who doesn't love to be a little fancier here and there 😉 ! And I am obsessed! I love the way it organizes my hair so my hair is all doing the same thing in the same direction. I can do a Vlog tutorial on how I do this soon, its so easy, takes me 15 minutes the first time and then 5 minute touch ups each morning. I use Rusk Flat Iron Spray heat protecting spray ALWAYS!!! And sometimes use this Big Sexy Spray & Play Hairspray  (the tiniest amount) to help my hair hold the curl even longer). I like the way loose curls look though. So I let it air dry and then wand it once it's dry usually the next morning (I shower at night).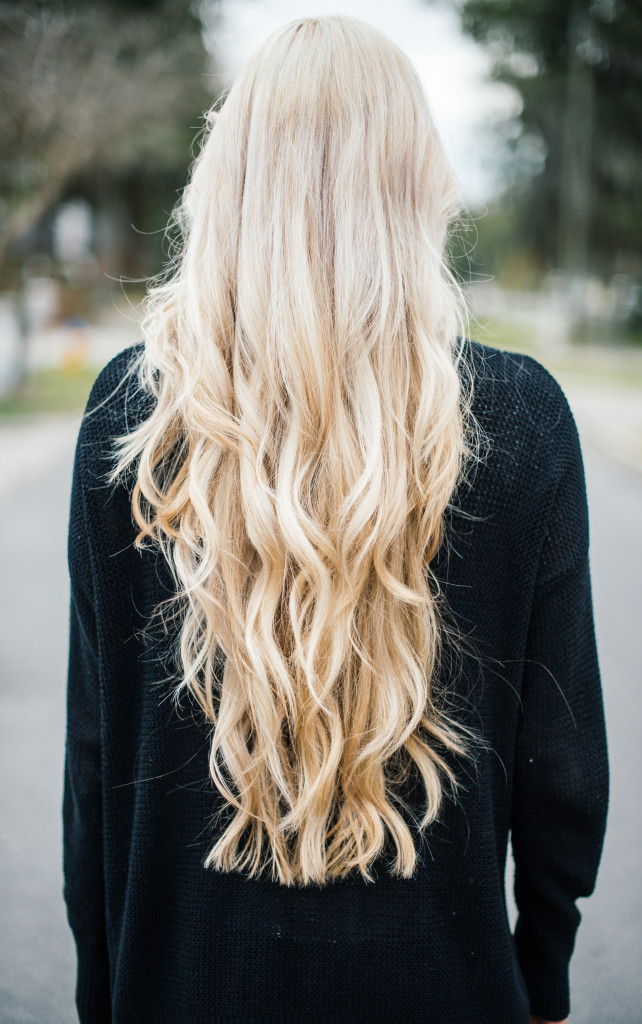 Ok let's talk products! I switched up my shampoos and conditioners and now I use Kenra Dandruff Shampoo (I know gross, but it is what it is) and it works CRAZY well! I take this purple shampoo (like a silver dollar size) and mix it with Nexxus Therappe shampoo. This brightens my hair without making it purple or silver, it seems to be a good balance. I then use Nexxus Therappe conditioner and brush my hair with a Wet Brush in the shower with the conditioner in.
I towel dry and then spray It's A 10 Miracle Leave-In Conditioner on my damp hair and then brush it with the Wet Brush again. On the ends of my hair I put Bonacure Rescue Repair Sealed Ends which helps with split ends so I don't have to get my hair cut as often, but I will let you know I get it cut about every three months and I get at least 2-3 inches off each time. Again ratty ends aren't cute, it's not worth the "long hair" 😉 . If you are trying t grow out your hair, I recommend going about ever 6 weeks to get your hair "dusted". This is just getting the bare minimum cut off, mostly just split ends, and it keeps your hair healthy while you're growing it out 😉 .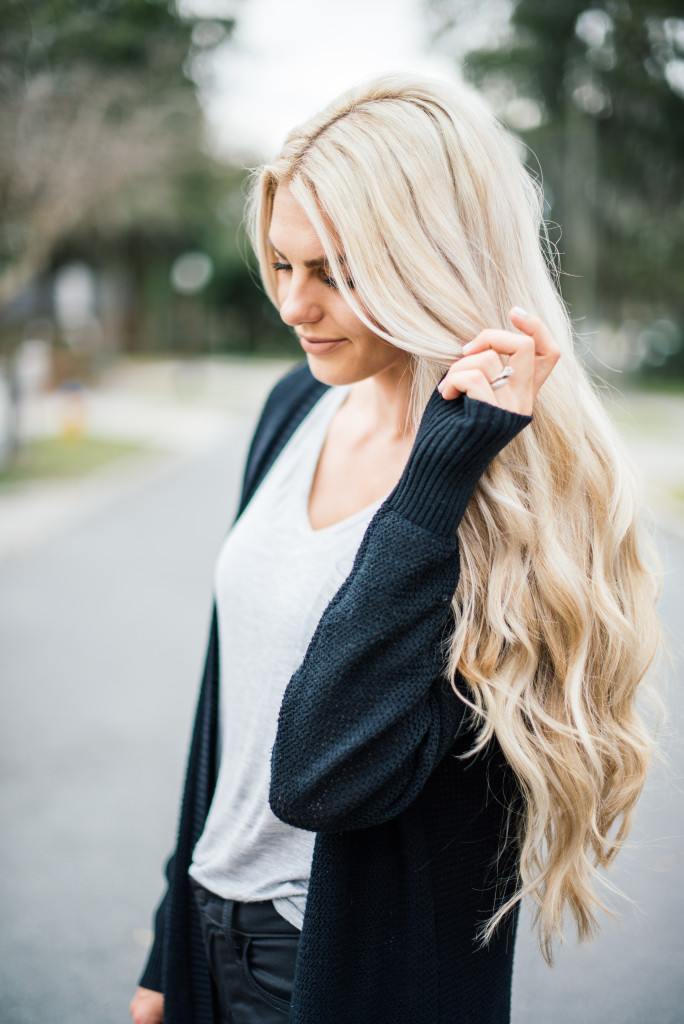 If my hair is curled from the wand I sleep with it down. If I am going natural I sleep with my hair in a bun to have some waves the next morning. I can do a tutorial on my sleep bun soon as well, super easy!
I am still obsessed with my Paul Mitchell Dry Shampoo and I use it on day three, four, and five hair. I spray it on my roots, pull my hair back and spray near my hair line, and underneath by the root, basically everywhere I sweat from fitness classes. Sometimes I blow dry the area I sprayed to give it some volume, but only about 15 seconds.
Every now and then if my hair is being weird and sticking to my head, I use  Big Sexy Hair Texturizing Powder to give it some volume at my roots.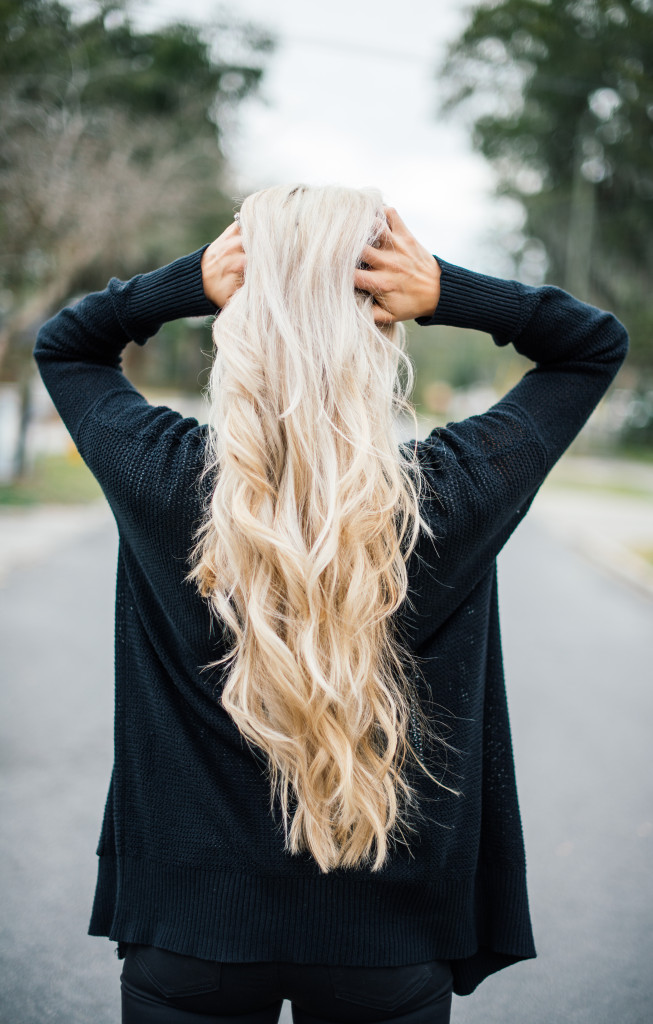 That's basically everything you guys! Thanks for all the sweet hair compliments and let me know if you have any other questions!
Side Note: The wind was crazy during this shoot, but we did the best we could! Shout out to Christine Wozniak and the photos, she is so legit! Check out her work >>>> here