I am so excited to share that we bought a house! This could not be happening at a crazier time, but I say bring on the crazy I love this house and I am so excited to be in it!
Tomas and I have never been homeowners and we have been married for seven years. It just never seemed to work out. We got married in school and were definitely not rolling in the dough, we both did our masters, so previous statement reigns even more true, then we launched Tomas's business which was money but not consistent and needed a lot of money on the front end to get established and stuff (office blah blah blah). Then we launched my business, and got our new office spaces (taking our money for a down payment and putting it towards the new office and studio). Now we are both 1099 business contractors (boring stuff you don't even want to know) but that basically means you have to show two years of consistent income to apply for a mortgage which we hadn't completed our two years yet. I say alllll that to say that buying a house at this time wasn't in the cards for us so it wasn't even a thought.
But God had different plans, here's kinda how the story unfolded:
So my best friend Ruthie was selling her house and was looking at houses to buy on Zillow. We were walking around Marshalls and she casual says "I found this house and I like it, but it's not historic and isn't as close to the lake as I would like" and she pulled up the pics to show me and I was like "Ruthie, I am obsessed with this house you have to buy it!!!" She was kinda like "mehhh" and that was that.   A week later Tomas and I are walking around downtown Denver catching up on life and casually I told him about the house. I was telling him more in the sense of, its nice to know that houses I like exist in our price range especially since we are looking to buy in six months and that was that.   The next morning Ruthie sends me a text of a link to a house she found that she really liked, so I asked her to send me the link of the other one. I showed it to Tomas and he was like "Oh my God, we need to buy this house!" I was like "Are you kidding me, you like it that much?!?!" I was honestly shocked because Tomas and I have wayyy different taste and have NEVER liked the same house before, like NEVER! He then gets on the phone with our tax guy to see what he can make happen. Honestly the whole thing happened so fast, before I knew it we were putting in a offer and on the phone with our realtor, Paige Wagner, touring the house on Face Time.   To remind you we were in Colorado and still had a week to be there and we are signing contracts on our cell phones on top of a mountain (mid hike) and sending it over. It was seriously a whirlwind, but before I knew it I had a Pinterest board going and I was even more obsessed with this house!!
Our offer got accepted (yes, we made an offer, it got accepted, we were in Colorado, and had never seen it, we cray) and we got into town and saw the house FINALLY in person. Good thing was we loved it even more. It's a perfect combination of Tomas and I, I love big open floor plan, white everything, tons and tons of light, and he loves a home perfectly conducive for a million parties. The whole back of the house opens up to a pool, Jacuzzi, and back patio so Tomas was sold!
A really cool thing that I wanted to share was, over a year ago when we took the money for a down payment and put it towards our businesses, I told God I knew this was the right decision and I had peace about it but I would really love to be a homeowner by my 30th birthday. It was trivial and I literally said it believing it probably wasn't going to happen, but it really is cool to see that God cares about the tiny things that are important to us, I turn 30 in December and we move into the house last week! I seriously cried when I realized this!   We are so so excited and I can't wait to grow our memories in this new house!
Special shout out to Paige Wagner, she is the most amazing realtor and has been so great through this whole process. It is really important to me to have someone come alongside us who is communicative, efficient, and fast at making things happen and that was so Paige!! If you are looking to buy or sell a house, hit her up, she is totally your girl!!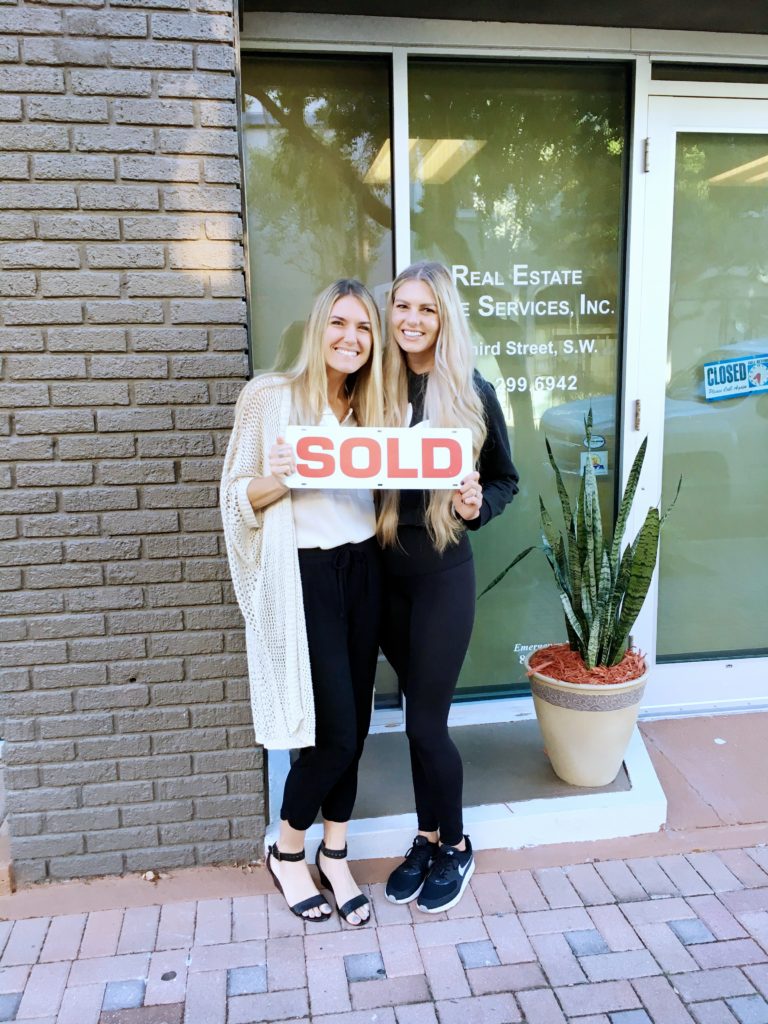 I LOVVVVEEE interior decorating and I am going nuts with what I can do with this house!! So pray for Tomas, our bank accounts, and my love for all things Anthropologie/ West Elm/ Crate & Barrel because things are about to get realllll cray! 😉
We currently are in the middle of painting the whole inside of the house. It was a really nice grey but all of my furniture it grey so i knew it would clash. We are painting it white and I am cannot wait for it to be done! I'll definitely be posting pictures of the house soon and the changes we have made to it but in the meantime here are pics from the listing.
P.S. Rest in peace bright green door 😉