Hi my name is Kirstin and I am a kickboxing addict! Like for real, for real, I'm obsessed, I can't stop talking about it, and I don't even care! One of my fave things about fitness is there is always new stuff coming out to prevent boredom, which is a common reason why people don't workout or stop once they start. One thing I wanted to add more of to my life in 2016 was cardio. I use to run all the time but it can be hard to make it out to the lake and just run especially after instructing fitness classes all the time.
We have offered kickboxing at the studio since opening but I was never able to do it because I always taught right after and I was nervous I would be too tired and wouldn't be able to teach my own class. With the schedule change in January, I was able to try other classes one of them being kickboxing! After the first class I was hooked (I now know what all the VS models are talking about), it is so fun, high energy, and kicks your a$$, I don't care who you are, it's hard and AMAZING!!!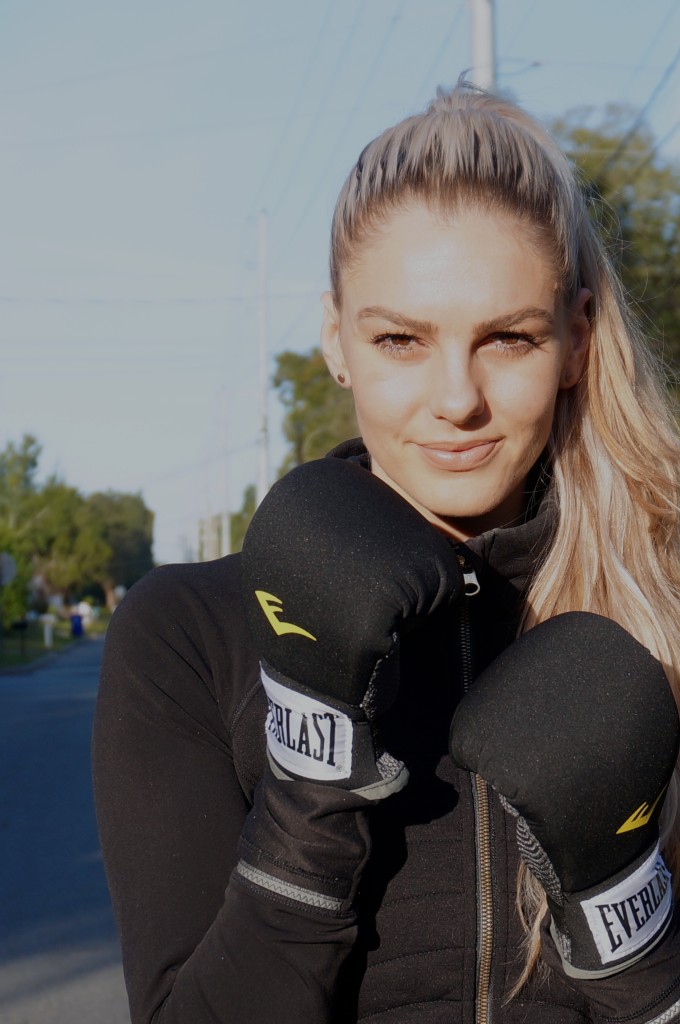 I feel like I focus so much on punching and my form, I forget I am even working out. I get so into it, I enter into some weird zone and before I know it class is over. I leave class on some crazy adrenal high and pretend to punch Tomas and show him all the new moves I learned for the rest of the night. He's a fan and loves to laugh at me as I go around the house shouting sequences (jab, jab, punch, hook, undercut 😉 ) and pretending to punch intruders (I could seriously take them).
It's like this weird crush I have developed where I try to slip it into conversations whenever I can. It is now built into my schedule to the point where when we landed back in Tampa from Aspen at 4:30am, I was at class that night, I could not miss #FOMO.
To put some of you at ease, I can be super uncoordinated but picked it up really fast! My nickname in my family growing up was Baby Giraffe because everyone said I was so long and lanky. I never grew into myself and would constantly trip, fall, hit body parts into doorframes (who put those there!??!) and anything else that my limbs happen to slap into. Needless to say I grew up pretty bruised #YOLO. Since Pilates, I have come pretty far with this and have gotten a lot better with the occasional knee bruise from tripping over myself… This lanky girl was smooth sailing by her second class! I still get lost sometimes but its just fun and I have to laugh at myself! #BYOG
Don't expect me to be teaching this anytime soon, I think it will be quite sometime before that goes down, but I am loving Sabrina's and Jill's classes in the meantime! Feel free to check out our schedule if you are thinking about trying it out! I will be there!!!
Also we have a kickboxing couples class coming up Friday, Feb. 19th @7:30pm and I'm not gunna lie I might be more excited for this then I was for my wedding day! Kickboxing and Tomas, done and done! I can't wait to show him all my moves 😉 It is going dowwwwnnn!!!
*Note to reader: This pic does not in any way shape or form portray the real kickboxing, it was staged after lipstick was applied! 😉 During kickboxing, my hair is glued to my head from sweat, my makeup is dripping, and I sweat in places I never knew glands existed, don't be misled! 😉
P.S. Kickboxing is definitely one of those things where you look way cooler in your head, one million pics later confirmed that. 😉